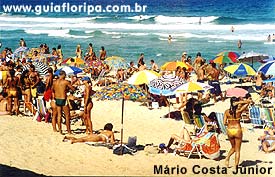 Distance from the center: 15 km.
Nearby beaches: Galheta, Joaquina, Barra da Lagoa, Moçambique.
Neighborhood: Barra da Lagoa.
The beach is mainly frequented by young people, ranging from surfers to paragliders, and others interested in excitement and action.
The infrastructure includes ocean front bars that serve sandwiches, tidbits of seafood or even complete meals. The establishments are open even during the low season.
Families that wish to visit this beach should be careful. There are strong waves and 'dumping' waves due to the rapid depth increase close to shore. This beach has one of the most well equipped lifeguard stations, which operates mainly in the summer, however it is best not to take chances.
Tip: traffic on the way to the beach is heavy throughout the day. On the return trip, if you leave the beach after 05h30 PM you risk being stuck in traffic for over two hours.
Do not miss:
- A walk to Galheta beach;
- The Gravatá trail, which crosses Mole's south coast heading towards neighboring Joaquina.
- Experience the thrills of the main sports practiced on Mole beach, such as surfing and paragliding. Ask about surfing and double paragliding lessons with local courses and instructor.