Distance from the center: 28 km.
Distance from airport: 18 km.
Nearby beaches: Açores, Solidão, Lagoinha do Leste.
Neighborhood: Pântano do Sul.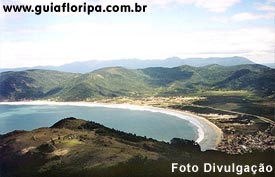 Considered one of the most traditional fishing villages on the Island, Pantano do Sul has a strip of fine, white sand 2.4 km long. Located 31 kilometers from downtown
Florianópolis, the beach has a calm sea, especially on the north side. Going southward, near Açores beach, the sea becomes rougher, with conditions that favor surfing. The spot is also known for its archaeological wealth, as it contains remains of one of the oldest sambaquis (primitive cemeteries) discovered on the Island.
Because of its fishing tradition, Pântano do Sul is a good place for dining, with good restaurants that serve dishes based on fish and seafood. It is also possible to take up lodging in the vicinity, as the region has a number of inns.
Don't Miss:
- The traditional Arante's bar: in addition to its delicious menu it exhibits much of the Island's cultural identity.