Distance from the center: 17 km.
Nearby beaches: Santo Antônio de Lisboa, Cacupé.
Neighborhood: Sambaqui.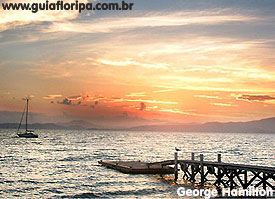 Like its neighbors Santo Antônio de Lisboa and Cacupé, Sambaqui can be described as a traditional fishing village.
The community invests in traditional parties and folkloric groups to preserve the customs and traditions of the Azorian culture.
Derived from the indigenous words samba or tamba (shell, oyster), and qui or quire (sleep, make/do) the name Sambaqui refers to the extensive deposits of sand, shells, oyster shells, skeletons and other remains that were left there by the early inhabitants.
The water at Sambaqui is typical of the region, with warmer and calm waters, however, swimmers should check the bathing status for the water's condition at different times of the year.
The view is one of the main attractions of Sambaqui. Besides the typical 2st century scenery, there is a panoramic view of the North Bay and the Continent. Many bars and restaurants take advantage of this setting making the place an excellent option for leisure and dining.
There are no inns in Sambaqui, but Santo Antonio de Lisboa is very near and has good lodging options.
Don't Miss:
- Community carnival;
- Food services.